Living with the Elephants
Remotely nestled within a massive private concession in the northern part of Hwange National Park, Nehimba Lodge combines comfort, elegance, and African charm for an exceptional safari experience. The main guest area and nine spacious canvas-under-thatch tents are built on teak decks overlooking a productive waterhole, which is frequented by large numbers of elephants. No two days are the same—all experiences are tailor-made and include game drives, walking safaris, and night game drives on the private concession. Set off to find the famous elephant hunting lions, or just sit back and enjoy an armchair safari—this wild and wonderful bush paradise promises memories to last a lifetime!
Solar power, WIFI in the main lodge
9 tents including 2 family rooms / 23 guest max
Accommodation, all meals, soft drinks, beer, wine + local spirits, laundry, guided game activities, and transfers from Giraffe Springs Airstrip, Hwange Main Camp and Dete Station
Park fees, optional transfers
An exclusive 43,500-acre portion of northern Hwange National Park
Ceiling or standing fan, electronic safe
Paging system and air horn
Outdoor shower, indoor slipper tub, bath robes
Mosquito nets and repellent
Coffee and tea facilities in room
Free daily laundry (weather dependent)
Nehimba is situated on an exclusive 43,500-acre portion of northern Hwange National Park
1-hour small plane charter from Victoria Falls to Hwange Main Airport followed by a 2-2.5-hour safari into camp.
1-hour small plane charter from Victoria Falls to Giraffe Springs Airstrip followed by a 20-minute drive into camp (Giraffe Springs is seasonal).
Distances by road: Victoria Falls – Mbala Gate 130 km, and 95 km through the park. Victoria Falls – Main Camp 185 km, and 60 km through the park (4x4 is not necessary).
Connecting People and Nature
The natural beauty and diverse wildlife of Hwange National Park attracts visitors who are eager to enjoy and ensure it is protected well into the future.
Proud guardians, the local community support conservation bringing sustainable livelihoods and critical social services like healthcare, education, and clean water.
Just by enjoying an Imvelo safari, every traveler helps finance conservation and community initiatives and provides 'boots on the ground' support in ensuring safe havens for wildlife.
Imvelo Safari Lodges knows that engaging and empowering local communities bordering national parks is the first and most important step in conservation. To that end, we have an exhaustive list of thoughtful, innovative, and impactful programs in place to achieve our goals—many of which you can choose to be an active part of!
7 nights/8 days: 3n Nehimba + 4n Camelthorn or Bomani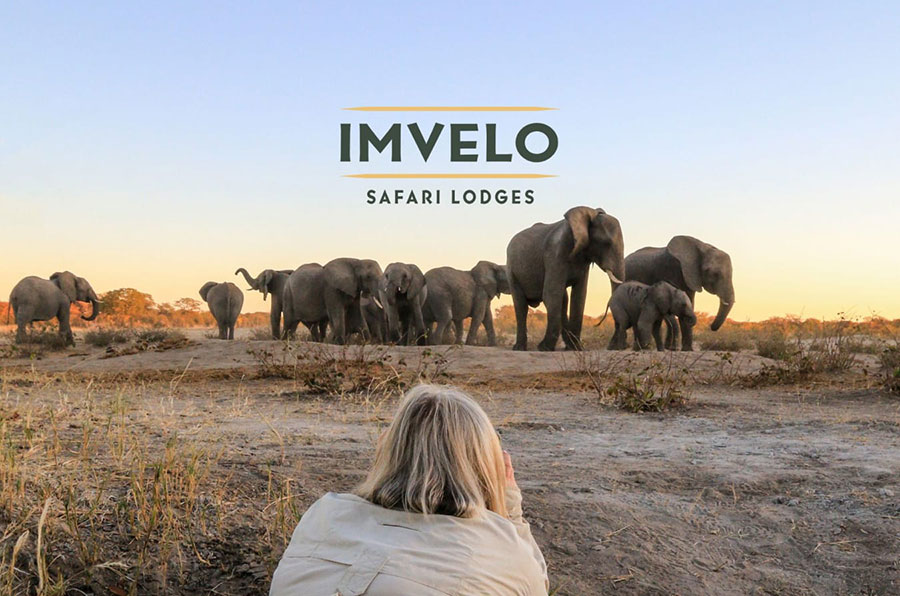 4 nights/5 days: Nehimba only
WHY HWANGE NATIONAL PARK?
With 14 651 square kilometers of wilderness to explore, Hwange National Park is bigger than the Serengeti National Park.
For Hwange's impressive size, the per annum visitor numbers are small in contrast to the density of travelers to parks such as the Serengeti, Masai Mara, and Kruger—it is likely you will spend most of your safari without seeing other vehicles except those from the lodge you are staying at—an exclusive experience indeed!
Hwange National Park is easy to reach from Victoria Falls by air in a private charter or a combination of road and the unique Elephant Express railcar transfer.
Hwange is home to approximately 46 000 elephants, compared with Masai Mara at 3 700, Kruger at 13 750 and Serengeti at 2 100. In the dry season in Hwange, it is likely you will see elephants numbering in the hundreds congregating at waterpoints. Amazingly there are more elephants than guests visiting Hwange National Park in a year!
Hwange National Park offers exceptional game viewing year-round and is one of the best parks in Africa for diversity of wildlife. Within Zimbabwean parks, the largest species diversity and populations of sable, cheetah, wild dog, and lion.
Hwange's Professional Guides serve apprenticeships lasting between 5 and 10 years and their skills are recognized as among the best in Africa.
Nehimba
Nehimba offers luxury living with African charm in a remote and private part of Hwange National Park.